On the 19th September 2023, Greenfield School held their annual Senior School Fair, with 30 schools, more than 50 school representatives and 10 Heads in attendance.
---
With a vast array of top Senior Schools in the surrounding area, parents of Greenfield children and other local families were invited to visit this pop-up "one-stop shop" showcasing many of the fantastic options available to them at 11+. Parents were able to speak with Heads, pick up a prospectus and understand the choices on offer for their child when they move on to the next stage in their education.
The evening started with a Heads' Panel, where seven Heads joined Mrs Botting on stage for a discussion on 11+ entry; how the process works and the advantages of making a transition to a new school for senior education.
Whilst the Heads represent a variety of schools, they all echoed each others' views on the 11+ and explained the many ways in which they aim to make the process as friendly and positive for all involved.
Dr Jon Cox, Headmaster at RGS Guildford reassured parents who may fear the examination process for their children, stating: "ISEB Common pre-test is a much more gentle thing… People think you need to be "prepped" to pass these assessments but the fact that they are at a school like this means that they are fabulously prepared." Joanna Wright, Head at King Edward's School Witley (KESW) went on to say: "For us, it's so important that children are enabled to be children for as long as possible… we try and make the 11+ as gentle as possible."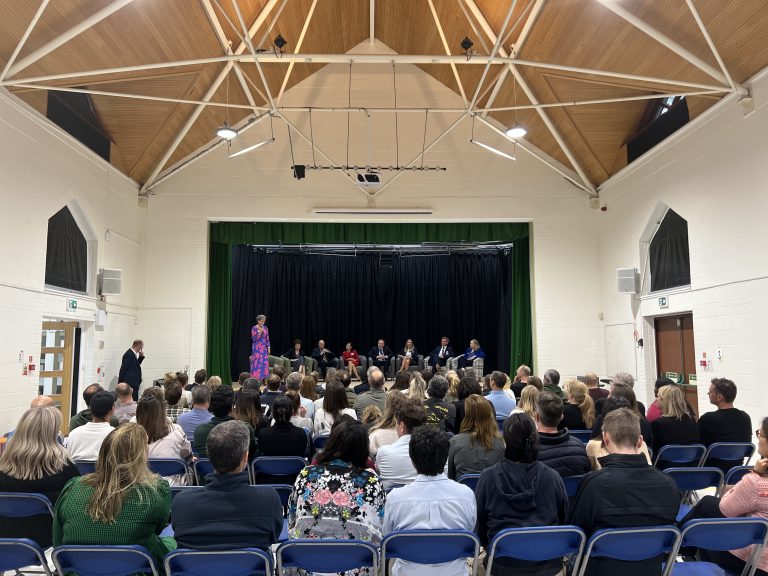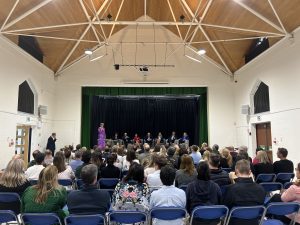 Sarah Rollings, Headmistress at Heathfield School elaborated further: "This process is not designed to trip anyone up. It is designed to ensure your child is going to thrive and get the academic results and personal skills." And Sarah Picton, Head at Sir William Perkins's School (SWPS), assured parents that the transition "is very much a "two-way process… the most important thing you can do for your child is help them look forward to that step." Alice Phillips, Head at St Catherine's, let parents know that in any case, Heads are very passionate about getting it right for the child.
With parents in the audience at various stages during their child's educational journey, the Heads encouraged parents, in the first instance, to take the advice of their Prep School Heads. Mrs Rollings discussed the fact that a partnered approach (i.e. parent, prep school and senior school) is when families achieve the best outcomes. And James Davies, Head at Halliford, was quick to reassure parents of Greenfield in particular, warmly stating that "Tania [Botting] and her team have years and years of experience working with us… we always get lovely characters, which is what we are looking for."
Following the panel discussion, Mrs Botting opened the floor to the audience to ask any questions for the Heads, where discussion turned to Senior School friendships, siblings, transportation and other "rites of passage" that occur when children move up to their new schools.
Greenfield's impressive Sports Hall transformed into an exhibition space for the Senior School Fair after the talk. The 30 Senior Schools in attendance set up their stalls and the parents were able to meander through the hall and speak directly with Heads, SLT and Admissions teams at their chosen schools. Parents were able to explore a wide range of choices, from British and International frameworks, day and boarding, single-sex and co-educational, and come away feeling inspired by the many fantastic opportunities that lay ahead.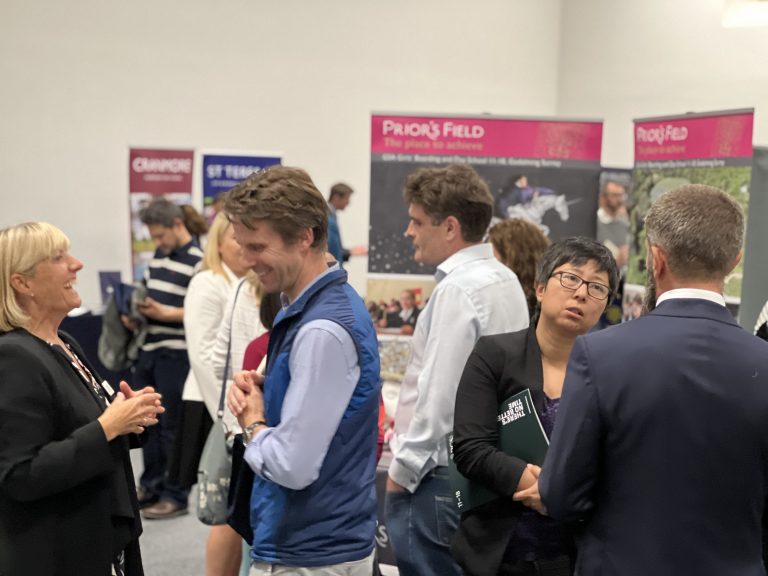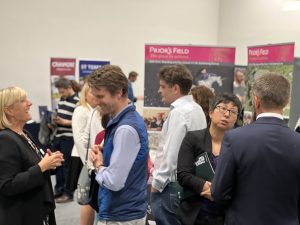 ---
A-Z of Senior Schools in attendance:
ACS Egham (part of the ACS International Schools group)
Co-educational Day School, age 4 – 18.
"We are a proudly diverse and inclusive school… We are an International Baccalaureate World School, which means we offer all 4 IB programmes… you can have a sense of confidence that we are assessed and accredited by the International Baccalaureate. [Greenfield School] is a school that's very proud of the individual, which is exactly what we do – place the individual at the centre of the learning experience. When I talk to Greenfield families, they talk very proudly about the fact they chose Greenfield school because it is a diverse, inclusive, welcoming, friendly, inspirational school… and that's very similar to what we think we are, and we're very proud of what we do as well. So it's a lovely mix of it being a nice move from one school to the other school."
Mark Wilson, Head of School at ACS Egham.
Box Hill School
Co-educational day and boarding, 11-18.
"Box Hill School is a day and boarding school for girls and boys aged 11-18 and is set in the beautiful Box Hill area between Dorking and Leatherhead. We pride ourselves on providing a rounded education which focuses on the 'whole person' and on delivering first-class learning in a warm, supportive and holistic atmosphere.
Box Hill School students will achieve excellent academic outcomes alongside developing compassion, understanding and wisdom. We take young people out of their comfort zones and they become resilient, daring participants in our community and beyond."
Clare Jordan, UK Registrar
City of London Freemen's School | Ashtead
Co-educational day and boarding, 7-18 with Year 7 intake.
"Freemen's is in lovely, leafy Ashtead, which is just off the M25 near Leatherhead. We are a school that starts from 7 up to 18, with an entry point to Senior School in Year 7, when we accept 40 new pupils into the School to join those transitioning through from our Junior School. We really focus on making the transition at Year 7 as smooth as possible, to ensure that joining Senior School is a really positive and exciting time for all pupils moving up from Year 6.
Our focus in the Senior School is on providing opportunities for our pupils to "learn, lead and make a difference". We would love to show you around our beautiful campus and tell you more about the opportunities we can offer your child at Freemen's and hope to see you at an Open Day or for an individual tour soon."
Debbie Bellenger, Head of Admissions (admissions@freemens.org)
Claremont Fan Court Senior School & Sixth Form | Esher
Co-educational day, 11-18
Claremont Fan Court School is a co-educational independent school, for pupils from 2 to 18 years. Situated outside Esher, in Surrey, sixteen miles from London, it is located on the grounds of the Claremont Estate.
Cranleigh School | Senior School and Sixth Form
Co-educational day and boarding, 13-18 | Prep school offers Year 7 and 8 provision
"A Cranleighan is recognisable by their knowledge and ambition, their confidence and compassion, their integrity and resilience, and their love of life."
Mr Martin Reader, Head
Cranmore | Horsley
Boys' day school, 11-16 | Part of the Effingham Schools Trust with 6th form provision
Cranmore is the boys' school that makes up part of the Effingham Schools Trust; a group of schools providing the diamond model of education to pupils up to age 18.
Epsom College
Co-educational day and boarding, 11-18
"We've had a fantastic night at the Senior School Fair and had lots of fascinating conversations with parents. We've really enjoyed those pupils who have come across from Greenfield; it's great connect with the new parents who may be looking for their youngsters to come across in a few years time. I'd really encourage parents to go out and see the schools they are interested in; take advantage of Open Days, walk through the gates, see how the pupils hold themselves, and how those schools are operating in person."
Ed Lance, Head of Lower School at Epsom College.
Epsom College is a co-educational independent school on Epsom Downs, Surrey, England, for pupils aged 11 to 18. It was founded in 1853 as a benevolent institution which provided a boarding school education for sons of poor or deceased members of the medical profession and also accommodation for pensioned doctors.
Farnborough Hill
Girls' day school, 11-18.
"Farnborough Hill, founded in 1889, is a leading Catholic independent day school for around 570 girls aged 11-18 years. We welcome girls of all faiths and none, who are happy to support our ethos. Our school is a vibrant community and our vision for our girls is simple: to help them become the very best version of themselves. We believe in the gifts and talents of each individual and we value the uniqueness of each person. From this diversity and belief comes a unity of purpose: to develop young women, each strong, compassionate and courageous, each going into the world to play a positive role. Our girls are engaged, committed and fun-loving. They are achievers but not paralysed by perfectionism. They are risk-takers and carers. These fabulous girls are buoyed up by all the adults at Farnborough Hill, each in our specific role sharing responsibility for the development of character and the spirit of our girls.
We do this joyfully and wholeheartedly."
Emma Judge, Director of Admissions and Marketing
Frensham Heights
Co-educational day and boarding, 11-18.
Frensham is definably different from others; we're non-uniform, we use first-name terms, we don't use internal competition, hierarchies, badges, prizes or cups; discipline is about conversations and learning self-discipline, not about fear or detentions. From our point of view, starting in Year 7 [rather than Year 9] can be a benefit in that you get longer to help them adapt to this different type of culture, you get longer to get them ready for growing up and being self-sufficient and having a sense of identity. Increasingly, we see ourselves as a Junior School and as a Senior School because we can see that there is a need for some rites of passage, some points of change, and Year 7 is one of those changing points.
Frensham Heights School is an independent school and sixth form college located near Farnham, Surrey, England, run by the registered charity, Frensham Heights Educational Trust Ltd. It was founded in 1925 and formed as part of the movement for progressive education.
Guildford High School
Guildford High School is a school for girls aged 4-18 with a specific entry point into the Senior School at 11+ (Year 7).
"GHS is a place of exceptional possibility where a love of learning is fostered, curiosity thrives and creativity is unleashed. Our community is tight-knit and girls feel guided and supported in our care; not afraid to take risks or to aim high. Kindness and happiness are the key values which guide us and create an exceptional environment in which all can thrive. We encourage all those interested in finding out more about GHS to come and visit us at one of our regular visitor mornings throughout the school year."
Helen Moffat, Director of Marketing and Admissions
Halliford School | Shepperton
Boys' day school, 11-16 | co-educational sixth form 16-18
It's my pleasure to be here at Greenfield today, where we have taken a number of students over the years to make their transition from Greenfield School, brilliantly-prepared, to join us here at Halliford. The lovely thing that we find with Greenfield boys is that the values that Tania [Botting] and her team instil in the boys are exactly what we're looking for; they come really well-prepared, but they're also happy to have a go at whatever comes their way, and that's very much part of the Greenfield ethos, and what, as a smaller Senior School, we are looking for. If I give parents one piece of advice, as you go through this slightly torturous journey, is to come and visit the schools, trust your heart, trust the wonderful team here at Greenfield, and I promise you, all will be well. We would be delighted to see you at Halliford!
James Davies, Head at Halliford School.
Heathfield School | Ascot
Girls' day and boarding, 11-18 |
The transition to Senior School is a really exciting part of our educational journey. When you finish Prep school and you're coming to the end, making those important choices, your Prep Head knows your child's educational journey really well. You know your child really well as an individual; so together, you will come up with some fantastic choices of Senior Schools. At that point, you then get to come and visit. At Heathfield, we want to welcome you as many times as you would like to come, to make sure that you understand the school; you understand what we can offer your daughter, and that we understand that we want to know you as a family and your daughter as an individual.
Sarah Rollings, Head at Heathfield School
King Edward's School | Witley
Co-educational day and boarding, 11-18
We really value the relationship that we have with Greenfield because the pupils that come to us from Greenfield are fabulous! We see them flourish, they make the transition really easily – it's great to know that they have been so well-prepared and they then continue their educational journey with us. One of the things we really value is their attitude of giving everything a go, and really enjoying the all-round education that we offer. It's been great to be here tonight and talk to parents who are absolutely wanting their best and we are delighted to be able to help in whatever way we can while making those really important choices.
Joanna Wright, Head at King Edward's School.
Lord Wandsworth College | Hook
Co-educational day and boarding, 11-18
Nestled within a stunning 1200-acre campus of soft rolling hills and wooded valleys, Lord Wandsworth is a school where pupils are thriving. It is a school with an inspirational charitable foundation, a passion for the individual and one which nurtures character and inner self-confidence in a world full of complexity. At LWC, pupils have a voice, alongside a desire to be curious, creative and gain an ever-developing sense of emotional intelligence. We also have a great deal of fun.
The academic curriculum at LWCaims to enable all pupils to find and develop a passion for learning that inspires them to improve and that will stay with them beyond their time with us. LWC has a relentless focus on welfare, wellbeing and good mental health and giving our pupils a voice. We work hard to enable our pupils to know that their thoughts inform their actions, their actions their habits, their habits their character, and that their character will ultimately determine their fortune.
Luckley House School | Wokingham
Co-educational day and boarding, 11-18
I've had a lovely evening meeting several families who have made contact in the past and have come to say hello; as well as several brand new parents who have heard of us and have had questions about our flexi-boarding and the size of our school and what we offer. It's been a great event and I look forward to seeing lots of these parents at our next Open Day.
Claire Crombie, Registrar at Luckley House.
LVS Ascot
Co-educational day school, 11-18
LVS Ascot is a private, co-educational, day and boarding school for pupils aged 4 to 18, situated near Ascot in the English county of Berkshire.
Manor House School | Bookham
Girls' day school, 11-16 | Part of the Effingham Schools Trust with 6th form provision
Manor House School is a selective Independent Day School for girls aged 4-16 with a Co-Educational Nursery and Lower Prep. It provides a smaller, nurturing learning environment producing consistently great academic results in a happy, friendly, and caring School environment. Our staff are passionate about laying strong foundations for the children in Nursery and Lower Prep. As a member of the GSA (Girls' Schools Association) our aim is to support and develop happy individuals who love coming to Schools and believe in their abilities to learn and succeed.
Manor House is one of three Schools in the Effingham Schools Trust partnership, which forms a dynamic triumvirate. The Effingham Schools Trust's diamond model offers benefits of the Co-ed classroom to very young pupils, the benefits of single sex education in later Prep and Secondary years, before returning to a Co-Educational Sixth Form. Families joining the Trust will have provision for boys and/or girls from 2-18 years across the three Schools.
Notre Dame Senior School | Cobham
Girls' day school, 11-18
Choosing a school for your child is one of the most important decisions you as parents are likely to make. With a rich 400 year history and an international living tradition, Notre Dame welcomes families of all faiths. We have a truly committed and dedicated staff, which encourage each pupil to become the best possible version of themselves, academically, creatively and socially. 'We share one vision – to enable your child to shine.' On behalf of all the staff we very much look forward to seeing you at Notre Dame School. Do browse our website and come along to visit us to see why we are so impressively different…
Prior's Field School | Godalming
Girls' day and boarding, 11-18
When you join Prior's Field in Year 7, you all join a big cohort together and we give them all a day off timetable before the others come in. They can bond together as a new cohort which is fantastic, so by the time the rest of the girls come in on Day Two, the Year 7s already know what's what and they've sussed the Dining Room out, they've got their lockers sorted and they are really settled. The two girls we have had from Greenfield this year settled very quickly; they are doing loads of clubs, lots of activities, one of them actually spoke up, she stood up in front of all our visitors for Open Day and did a short speech (completely unscripted), and she was amazing. They definitely settle in very quickly; our philosophy is "give something a go" – you don't know if you will like something unless you try it – that fits from so many Prep Schools around, and they really do take up those opportunities – straight into clubs, straight into sports, into training, into lessons – it's really good.
Karen Wilcock, Deputy Head at Prior's Field.
Reed's School | Cobham
Boys' day and boarding, 11-18
I've been Head for 10 years now and I'm delighted to say we've had a number of fantastic Greenfield pupils come through the school. My advice to parents would be, listen to Mrs Botting and her successor, they will give you fantastic advice; you've got a wealth of schools to choose from and hopefully Reed's will be one of those you consider.
Mark Hoskins, Head at Reed's School.
(The) Royal Grammar School | Guildford
Boys day school, 11-18
We are delighted, always, to receive applications from Greenfield children. They come across as delightfully curious, intellectually strong, and fully ready to take on the endeavours of any Senior School. So it's always a pleasure to have them – many many boys from Greenfield school have gone on to do great things; they do great things at RGS, and at all the other Senior Schools that they go to.
Dr Jon Cox, Head at RGS Guildford.
(The) Royal School | Haslemere
Co-educational day and boarding, 11-18.
The thing about The Royal [School] is that we have very similar values to Greenfield. We're a nurturing environment; we suit children that have flourished in a setting like this where the children are very well-known as individuals. We're academically ambitious, but our selection is certainly not aggressive.
Ed Taylor-Gooby, Assistant Head at The Royal School.
St Catherine's School | Bramley
Girls' day and boarding, 11-18.
St Catherine's School is an independent girls' boarding and day school in the village of Bramley, near Guildford, Surrey, England.
St George's, Ascot
Girls' day and boarding, 11-18.
St George's is an independent secondary school in Berkshire. It's great to be here at Greenfield School and be talking to so many wonderful families here; about the fantastic girls who are looking at independent secondary options in the local area. We think there are enormous benefits to looking at independent schools because of the choice and range of options that you have, and the potential for leadership opportunities, great facilities, a broad range of academic subjects and co-curricular options that schools such as St George's can offer to children in the local area. So it's been lovely to be here and to hear from other colleagues and leaders in the area. We hope that Greenfield parents have a good time and enjoy their process of looking for a school for their son or daughter in the future!
Alex Wright, Deputy Head at St George's, Ascot.
St Teresa's | Effingham
Girls' day school, 11-16 | Part of the Effingham Schools Trust with 6th form provision
St Teresa's is a girls' school that makes up part of the Effingham Schools Trust; a group of schools providing the diamond model of education to pupils up to age 18.
Salesian College | Farnborough
Boys' day school, 11-16 | Co-educational sixth form 16-18
Salesian College, is an independent Roman Catholic day school in Farnborough, Hampshire, England. It admits boys from the age of 11 to 18, and girls in the Sixth Form.
Sherfield School | Sherfield on Loddon, Hampshire
Co-educational day and boarding, 11-18
Sherfield School is a coeducational private day and boarding school, located in Sherfield Manor by Sherfield on Loddon in Hampshire, England. It is set in 76 acres of parkland and is currently a school of over 400 pupils founded in 2004 by GEMS Education.
Sir William Perkins's School | Chertsey
Girls day school, 11-18
Sir William Perkins's School is a private day school for girls aged 11 to 18 in Chertsey, Surrey, England. It is situated on 49,000 m² of greenbelt land on the outskirts of Chertsey.
Tormead | Guildford
Girls day school, 11-18
Tormead School is an independent day school for girls aged 4–18 years old in Guildford, Surrey, England. It comprises a reception, prep school, senior school and sixth form. It was founded in 1905 and is a member of the Headmasters' and Headmistresses' Conference and Girls Schools Association.